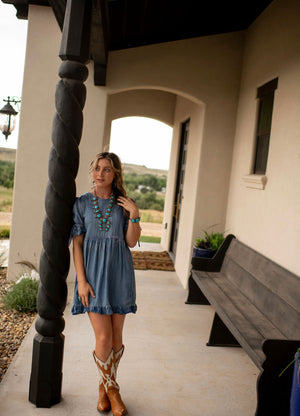 Authentic turquoise and sterling silver jewelry
Authentic turquoise and sterling silver jewelry
Authentic turquoise and sterling silver jewelry
Authentic turquoise and sterling silver jewelry
Authentic turquoise and sterling silver jewelry
Turquoise jewelry for every style!
Hello and welcome to A Turquoise Sweetheart, located in "The Sweetheart of the Plains", Miami, TX!
You can never have too much turquoise!
Meet Summer: Owner
I am a God fearing wife, momma and turquoise lover! I married my cowboy in 2018 and we had our first little girl in 2021. We live in a very small town in the north eastern Texas Panhandle and we love every part of it, even with all the wind. I was born into the western and ranching lifestyle and it is a huge part of who I am. I love combining all of the turquoise jewelry with the western fashion!